(This news page mostly contains excepts from general news Emails sent/posted to club members)
Photos and Recap from our 25th Anniversary Party
See Full Slideshow in our Photo Album
We had our milestone 25th Anniversary Party at Kilkenny Irish Pub on Saturday November 27, 2021. It was awesome and emotional to be able to celebrate with our long time fellow Parrotheads, together again, and for a very special occasion!!
Special thanks to the incredibly talented pH Unbalanced Band for playing at our party, like they have faithfully done for most of our 25 years, for which we're grateful.
We had lots of fun with our traditional Silent Auction, raising money for our 25th Anniversary charity of choice, Crohn's and Colitis Canada. We had our 50/50 raffle and a jelly-beans-jar-guessing contest; more ways to raise money for our charity. Overall, we raised a total of $3,500 from our efforts.
As the longest-running chartered Parrothead club in Canada, we've come a very long way. We can look back with amazement and pride at all the funds raised for so many charities in the Calgary urban area, plus the thousands of member volunteer hours we've attained in service to our community!
As our motto says we " Party with a Purpose " and we will continue, no matter what hurdles we have to overcome. Here's to another 25 great Parrothead years, PHINS UP !!
.
---
This is for those who wondered how this club got underway!
We have enjoyed the lyricism and musical accounts of Jimmy's for far too many years to even count. Amazingly enough, we had heard of a Jimmy Buffett Party at a bar named Green Street (Oh Canada) which was hosted by some university student(s) in the spring of 1995. We were with a couple of our friends, who also enjoyed Jimmy's tunes, and off to the shindig we went. A musician by the name of Chuck was playing guitar and singing some of Jimmy's songs. I also knew the lyrics to the songs, and joined him on stage. The party was full of costumes of all kinds, including a shark eating a person, cheeseburger hats, flowers in hula dancers' hair, and an array of tropical flowered shirts. This setting was perfect, and the party was a blast!
We waited for the next one to be advertised, but nothing happened for the next year or so. We can remember sitting around with friends on a Friday night, wishing we could go to another Jimmy Buffett party. They actually suggested to us that we should start up a club here in Calgary and have our own parties. Coming to the conclusion that we didn't really know where to start, I called Green Street and spoke with Chuck, the musician. I told him what we were thinking and we set up a meeting with him. All three of us, Chuck, Tom and I knew that we wanted to do something more with this idea.
In June 1996, I called Key West's Margaritaville to find out how to form a club. They, in turn, directed me to Donna, in Virginia. She gave me some suggestions and names of who to contact. Later on that month, Tom did the paperwork, paid the fee, and sent the materials to Pat in Baton Rouge, Louisiana. We, at that point, had formed the "Calgary Parrot Head Club". Between Chuck, Tom and me, we organized a party at Hose & Hydrant for May 19, 1996 (a long weekend) called First Flocking of '96.

A fantastic 155 people turned out at the first flocking and we raised $710.00 for Easter Seals Camp Horizon through the 24 Hour Relay. This charity was chosen because of it being near and dear to an inaugural member's heart. Tickets were $5.00 per person and we were able to get in advance an audio tape of Banana Wind from the MCA Records representative, Terry. While it was being played, one comment was, "The title song sounds like something from Sesame Street!" The entertainment was Chuck playing his guitar, and I had sung some harmonies. We had a sign-up list at the door for interested flock members. They could leave their name, address and/or e-mail address in the appropriate column.
After the showing of significant interest in Calgary, we chartered with the PHiP (Parrot Heads in Paradise) in July, 1996. Officially, we were Parrot Head Club # 90. At that time, the "First Canadian Parrot Head Club" was in Parksville, BC. It ceased to exist a couple of years later.
Our first organizational meeting was at Kaffa Coffee & Salsa House, August 26, 1996. A group of members established a membership package and discussed upcoming events, our first being the September 22, 1996 Alzheimer's "Thanks for the Memories" walk. PHiP also picked up on Memory Walks from other communities.
At last, our first Calgary Parrot Head Club happy hour was on September 25, 1996 at the Hose & Hydrant Pub. We had a fantastic turnout and new friendships began to form. Meeting other parrot head friends was one of our main goals.
On September 28 & 29, 1996, the Gorge at George, Washington became the incredible backdrop for the Banana Wind Concert. The "Order of the Sleepless Knights" (members from our club) were in attendance. A few of our club's members met up with the Spokane flock the night before the concert. A larger group of Calgary Parrot Heads got together at O'Doherty's Irish Grille to share our excitement about the upcoming concert. The weekend was a blast and everyone enjoyed themselves far too much.
The next Happy Hour was on November 29, 1996. Once again, the turnout was fabulous. It seemed too good to be true that we could actually listen to Jimmy's music in a public setting other than Come Monday and Margaritaville, which was played sporadically on the radio.
The club organized a Christmas Toy Drive which was attended by many parrot heads. A group of musicians got together and formed the first pH Unbalanced Band (members were Chuck, Darryl, Joyce, Perry, Roger & Ross) and they entertained the Hose & Hydrant's patrons and club members. We had asked folks to bring a toy for the Salvation Army Children's Village charity. We also, at that time, offered a Charter Membership Package for $25 which included club launched tee shirt, the Christmas Island CD, and a 1996/97 membership.
On Sunday May 4, 1997, the first River Clean Up was attended by our club members. This was our first exposure to the press. We were on T.V. for the first time on CBC Sunday News. We felt it was great exposure for the club.

It is now January 2021, and the Calgary Parrot Head Club has raised great amounts of money through Happy Hours, Spring Phlings, Christmas Parties, and Golf Tournaments, for all different kinds of charities in and around Calgary. Environmentally, we have cleaned parts of the Bow River's banks each year and have done all of this while enjoying the company of others who are like minds!

We are the people our parents warned us about, but instead of cautioning us, they might have praised us for our sense of community, our sense of pride in what we do, and our ability to look into the future and recognize that we can make a difference and it's worth it!

We are the longest lasting Parrot Head Club in Canada, and very proud of that!

It has been twenty-five years since the club started, and we are hoping that it continues for another twenty-five years!

Fins up,


Joyce Byrnes
Co-Founder
Calgary Parrot Head Club

---
Muchos gracias to the volunteers who signed up for the Pathway/River cleanup , especially in very trying times! This was our 23rd contiguous year -- and even the COVID19 Pandemic didn't stop this event from going ahead! - Just rescheduled for September from our usual first-Sunday-in-May schedule, when we still in the midst of the big quarantine of 2020.

We were back in our old assigned pathway Inglewood, and back starting and ending at the Hose & Hound. And the weather was great yet again! :-) Even the forest fire smoke didn't keep the sun from shining.

Our efforts were concentrated mostly in the southern third of our assigned route, which needed the most cleaning. e.g. Gord found what appears to be a bag of Maui-Wowee. Well it was a bag of something... (Ever notice that the cannabis-related humour was a lot funnier when it was still illegal?)

Great to get together again, in the great outdoors. Thank you again, and hope to see you all next year!

---

Golph Tourney Winners!!
Congratulations to Neil, Willy,
Hudson and Mike on winning the 2020 CPHC Golf Tournament with a score of -8 on the day!
---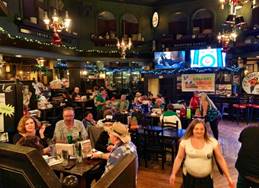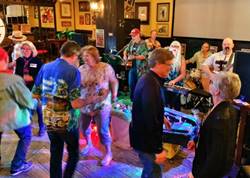 Preparations started early for the Annual Christmas Party. The charity for this event was Seniors Secret Service, a small charity that works with many nursing homes, facilities that home the elders, and shelters. This charity gets no funding from the government so it was very important that we tried to raise as much money as possible for them.

There has been a terrible cold like flu going around and it seemed that it has struck our members with a vengeance. Unfortunately, we only had approximately fifty members out for our Annual Christmas Party "With a Purpose"!
Even though the numbers were down for attendance, we raised $1576 for the charity. The pH Unbalanced Band played the night away and the dance floor was filled with pirates, elves, sharks, antlers, and glittered jackets! Yes, there was a Conga Line which went out of one door and back in another! We even had a guitar playing shark on stage!!!
Those of us who were there felt great th
at we were helping to make 5550 seniors in our city enjoy the Christmas season. It was a great way to bring in the Holiday spirit in all of us who attended.
---
After what seemed like a continuous rainy day after rainy day, for what seemed like the whole summer, we finally were blessed with sunshine and half decent temperatures on the day of our Annual Golf Tournament. Forty-eight golfers showed up in their finest "Parrot Head" clothing to help raise money for the A.L.S. Society. Each signed up golfer was given a Registration Gift which included our very own "Calgary Parrot Head Club Golf Towels"!!! Thank you Cathy & Steve for organizing all of these handouts!
There were all sorts of palm trees, margarita glasses, shark fins, tropical flowers, leis, flamingos, signs for Margaritaville and anything else that you could think of, when you think Jimmy Buffett, that covered golf carts. Everyone was in fine spirits!

We headed out to tee off in an orderly fashion, but once out there, there was no holding back with some antics! Some even dressed as Margaritaville Police officers and had a police siren that was sounded just as another person was about to drive the ball! Ahem...Ahem!!!
We had fantastic prizes that were gathered from local businesses as well as really great donations from a few brewing companies. The gifts were fantastic! A special thanks to Top's Pizza & Steak House for picking up the tab for free beverages once out on the course and donating so many of the larger prizes.
Also, thank you to Pam for the wonderful Raffle prize items from Pottery Barn. As well, thank you to the many others for the donations, and especially Dustan who took the bull by the horns and worked diligently to make this event happen without a snag! We sure couldn't have had such a successful tournament without all of them.
We played 9 holes with Best Ball. There were competitions for our golf tournament that were filled by many. The Best Scoring Group consisted of Wayne W, Pam W., Ryan W., and Ashley W, all who are long time Parrot Heads of our club. Congratulations go to all of them!
Another important competition was the Best Dressed Parrot Head! Our own Parrot Head member, Donna G. won for the ladies, and Roy R. won the men's competition. There were so many prizes that went out to so many Parrot Heads!!! A huge THANK YOU to all of you!!!!
After playing the 9 holes, everyone had four different tasty options for dinner at the clubhouse as soon as they were finished golfing or whenever they wanted to place their order. The meals were great and all the staff at the golf course was exceptional!
Golf stories were shared as the libations were disappearing. We had Jimmy Buffett's tunes blasting in the clubhouse for all to enjoy!
Every year we have a 50/50 Draw, but this year we also had Door Prizes (Hockey Jerseys mostly) and two Raffle Draws (two gift baskets worth over $700 altogether). Thank you to everyone who bought tickets for these draws! The total amount raised from the Raffle Draws was $525 and the 50/50 Draw made $155. We sold many Mulligan's for $5.00 each which raised $365. Hmmm! We really are so competitive! I wonder if anyone else found some in their pocket the next day too?
Thanks goes out to all who entered the tournament as well as the organizers! Something like this doesn't just happen without hours and hours of work behind the scenes. Cheers to all who helped, and participated!
The total amount raised was $1502.26! This amount will be added to the other funds raised this year for this worthy charity. There will be a cheque presentation on September 28 [2019] at 2 PM, Top's Pizza & Steak House on Fairmount Drive SE. Come on out and enjoy some tunes, catch up with old phriends, and be part of the BIG Cheque Presentation to the A.L.S. Society.
We sure hope that you can make it out to this important event!
---
We raised our "Tin Cup Chalice"s on September 28 at Top's Pizza &.Steak House as we celebrated handing over of a cheque to the ALS Society of Alberta!
"Everbody's Talking" about how fantastic and phun it was to "Party With a Purpose"!
We were definitely "Here for a Good Time, Not a Long Time"!
Dustan and Joyce entertained with a couple of sets to make it feel like "5 o'Clock Somewhere", although there weren't any "Nautical Wheelers" gliding 'cross the floor! No "Lone Palm" in sight, or "Harvest Moon" either... only snow coming down!
Thanks to all of you who came out for this event!
It truly was a "Lovely Cruise"!
---
From Joyce B, CalPHC Prez.
May 2019
Well, another successful Spring Phling to go down in the books! We had a turnout of approximately 130, not counting staff and band which made the bar warm up considering the cooler weather outside.
We raised $3050 to go to S.T.A.R.S. Air Ambulance through the ticket sales, a 50/50 Draw, a Balloon Draw for a Redwood Cedar Planter with Wildflowers (donated once again by Murray and Leeann), and the Silent Auction. Everyone seemed to have enjoyed this Partying With a Purpose again. We will be adding this amount to the January Happy Hour's donation and making a large cheque (and small) to S.T.A.R.S. Air Ambulance in the near future. Thank you goes to Stu and his wife, Diane, for talking to the crowd about their experience with S.T.A.R.S. at the beginning of the evening. No doubt a life changing experience!
I want to thank everyone who helped out; the door, decorating, 50/50, Silent Auction, the Balloon Draw, Memberships, decorations coming down, and so on! We sure couldn't do it without you and I hope you realize just how important and appreciated your helping out is! Thank you!!

---
Golf Tournament: Winners and Charity Results
By Joyce B.
21-Aug-2018

Another successful Golf Tournament was held at Calgary's Fox Hollow Golf Course with thirty-eight golfers and four others helping out with registration. Registration went smoothly with Cindy N., Cathy M., and Tina H. running the show. Thank you gals!!! Cathy and Steve M. had put together Welcome Packages for all of the golfers, which they received after registering. Thanks goes to both of them for letting the golfers start out with a great package!
Carts were assigned and decorated by everyone and the judging of the Best Decorated Cart was done by two war veterans that were there to represent the charity we chose, "Canadian Legacy Project". Interestingly enough, one of the veterans, Roger, was from the United States who had served in the Vietnam War and is now living in Calgary, and the other, a Canadian vet, Mike, who had served for several tours in Afghanistan, Ethiopia, and Bosnia, and is suffering from P.T.S.D (See this CFCN Calgary Link) were our judges. The Marshal of the course was pleased with everyone and thought that all of the carts really showed off our character as a group.
We played 9 holes using the Best Ball. There were competitions for our golf tournament that were filled by many. The Best Scoring Group consisted of Gord C, Dale G, Steve M, and Kevin W, all who are long time Parrot Heads of our club. Congratulations go to all of them!
An additional competition was the Best Dressed Parrot Head! Many were decked out with flamingo hats, tropical shirts, hula skirts, beads and leis, Parrot Head tailgate decorated hats and so much more! Interestingly enough, the top five were all dressed as Pirates! It came down to the hand held over each and who got the loudest cheering! Ken won! The others in the line up were decked out with a parrot (stuffed, with a pirate hat) on one of their shoulders, and another with a pirate puppet! Let's not forget the new member, Craig, with the coconut bra and grass skirt! Too much PHUN!
Everyone had four tasty options for dinner at the clubhouse as soon as they were finished golfing or whenever they wanted to place their order. The meals were great and all the staff at the golf course was exceptional!
Golf stories were shared as the libations were disappearing. We had Jimmy Buffett's tunes blasting both on the course as well as in the clubhouse for all to enjoy!
The 50/50 Draw was also a success, thanks to Rob C. and Janice L. for doing such a great job selling them, and you would never know that forty of us could raise so much for the charity! The winner of the 50/50 Draw was Bonnie M., who re-donated her winnings. This was a very generous gesture and not one that we expected, at all! Thank you Bonnie!
We tried something new this year to raise more funds. Besides the selling of Mulligans and the 50/50 Draw, this year, we had Raffle Draws. We went expecting to have two draws, but ended up with four as Fox Hollow donated some items and a member brought a huge, basket of freshly dug and cleaned veggies from his garden! Thank you to everyone who bought tickets for these four draws! An enormous thank you to Pam W., Pottery Barn, Williams Sonoma, Gord C., Wayne W., and Fox Hollow for these wonderful gifts!
The Canadian Legacy Project ( http://www.canadianlegacy.org/ ) will be receiving a cheque through presentation at a later date as we are also going to have our November Happy Hour raising funds to add on to this amount. Hopefully, the two vets that were at the tournament, Roger and Mike, can be there as well.
The Canadian Legacy Project was developed to be an organization that advocates for our veterans and supports them by creating programs and events to help improve their everyday lives.
All in all, it was one of our best golf tournaments! Thank you to all who entered the tournament as well as the volunteers and organizers (Dustan B., Steve M., Joyce B., Gord C., and Greg from Fox Hollow)! Something like this doesn't just happen without hours and hours of work behind the scenes. Fins up to all who helped, and participated!
---
by Joyce Byrnes
Wed. May 30, 2018
Another successful Spring Phling has passed and we are so proud to announce that we raised $3908 (with more to come; discussed later) for STARS Air Ambulance. This is awesome!
Original Joes-Avenida was full of very generous Parrot Heads who bid on twenty- two Silent Auction items, bought (just under 920) 50/50 tickets, purchased fifty ocean coloured balloons at twenty dollars a balloon with the hopes of winning a beautiful Red Cedar Planter Box, with two Scarlet Begonias, which was designed, made, and donated by two of our own parrot heads, Leann and Murray.
Trying to find room on the dance floor was a bit tricky at times with the pH Unbalanced Band belting out tunes that everyone seemed to enjoy. There was another impromptu conga line that threaded throughout the bar, picking up patrons as it went past them. We had pirates dancing with hula girls! We had Fins to the Left, and Right! We had smiling faces from all directions! We really do know how to Party With a Purpose! A huge thank-you to everyone who donated items for this event!
Additional note: STARS will also be the beneficiary for our June 24 Happy Hour. We knew it was worthy for raising money, but when you hear first hand of what STARS does, like what Lorna at the Spring Phling told us she went through, you know it is worth every cent.
---
CalPHC featured in Phlockers Magazine, June 2015 Edition! (Pages 12 & 13)

Check it out:
www.phlockersmagazine.com
---
Unless otherwise noted, most of the articles on this page were adapted from the newsletter, published by Loralyne M., Eva R. and Deanna L.