(This news page mostly contains excepts from general news Emails sent to club members)
by Joyce Byrnes
Wed. May 30, 2018
Another successful Spring Phling has passed and we are so proud to announce that we raised $3908 (with more to come; discussed later) for STARS Air Ambulance. This is awesome!
Original Joes-Avenida was full of very generous Parrot Heads who bid on twenty- two Silent Auction items, bought (just under 920) 50/50 tickets, purchased fifty ocean coloured balloons at twenty dollars a balloon with the hopes of winning a beautiful Red Cedar Planter Box, with two Scarlet Begonias, which was designed, made, and donated by two of our own parrot heads, Leann and Murray.
Trying to find room on the dance floor was a bit tricky at times with the pH Unbalanced Band belting out tunes that everyone seemed to enjoy. There was another impromptu conga line that threaded throughout the bar, picking up patrons as it went past them. We had pirates dancing with hula girls! We had Fins to the Left, and Right! We had smiling faces from all directions! We really do know how to Party With a Purpose! A huge thank-you to everyone who donated items for this event!
Additional note: STARS will also be the beneficiary for our June 24 Happy Hour. We knew it was worthy for raising money, but when you hear first hand of what STARS does, like what Lorna at the Spring Phling told us she went through, you know it is worth every cent.
---
by Joyce Byrnes
Tues. Dec. 12, 2017
Greetings Parrot Heads!
What a wonderful evening Saturday Dec. 9 [2017] turned out to be! The weather was here!... That's for sure! With all of the proceeds going to Inn From the Cold – Calgary, I am very pleased to let you know that we raised $3764.00! There is no doubt that this amount will help to make this time of year a little bit easier for those families that are in need of assistance.
First of all, we all supported this charity by coming out to party with a purpose,(Thank you) because that is just what we do.... as well as bidding on the 23 silent auction items, buying all 50 balloons for $20 each, hoping to win one of the two draws worth approximately $650 each, buying up the 50/50 tickets and making the actual winner walk away with $410, and a huge smile across her face. The 50/50 ticket sales was also a record breaker!! You all conga lined, twice, and partied with the purpose of having a great time! The Shotzski did not sit idle for any length of time, and from my view of the evening, everyone seemed to be having an excellent time.
I would like to thank everyone who has contributed towards the silent auction items. I wouldn't have been able to put together all of those baskets without your contributions. Also, a thank you to John & Marion, Janice & Rob, Tom, and Colleen for helping out with the Balloon Draw; Eva & Roy, Bev & Derek, Cathy & Steve, Ashlea & Shane for decorating, Eva & Roy for making, and selling, all of those 50/50 tickets, Wendy & Marvin, Lorrie & Kevin, Karen and Janice, and Janice & Yves for taking care of the tickets at the door. I also would like to thank Bev and Cindy for offering next year's memberships. You will be able to purchase them at the 2018 Happy Hours as well. A huge thanks to Derek for going around to everyone with the membership sales rather than you trying to catch up with the gals. There is no possible way that this Christmas "Party With a Purpose" would have even happened without all of their help, and your attendance. It is appreciated very much!
Cheers to you having a safe holiday season everyone! The "Bored" Members would like to wish you all a very Merry Christmas and a healthy and prosperous 2018!
Fins up,

Joyce Byrnes
President
Calgary Parrot Head Club

---
Fundraising for Fire Fighters' Burn Treatment Society
The Fire Fighters Burn Treatment Society was very appreciative of the funds we raised for them from the 50/50 draws at the January Happy Hour. Shown here is a picture of the cheque presentation from Derek D. to Thomas K. of the society.
---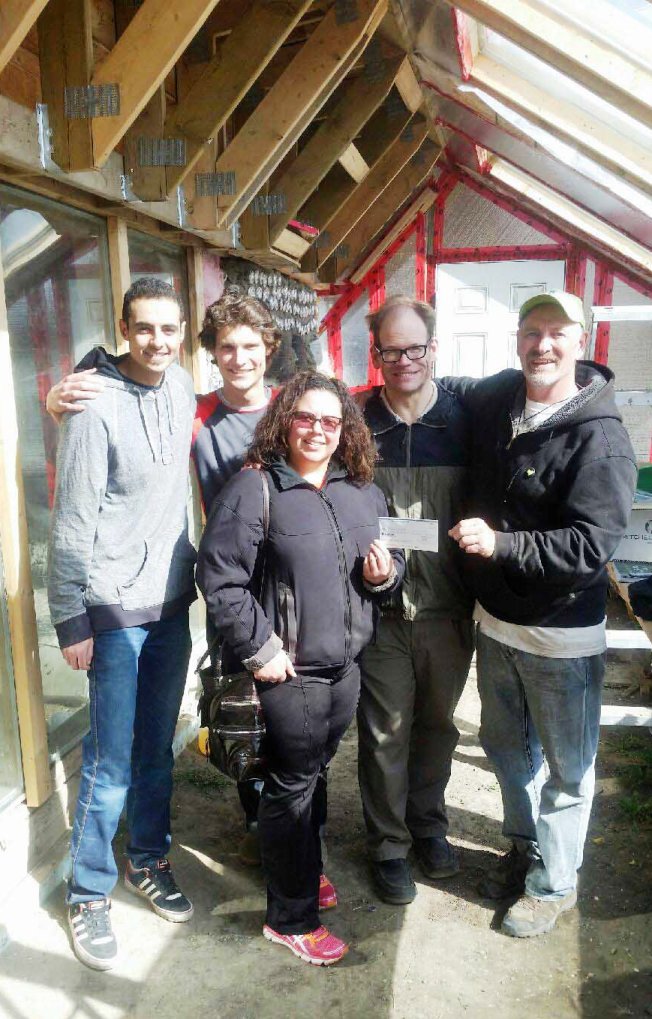 Thanks to the 50/50 and Raffle Draws during the March Happy Hour (Dockside Pub) we raised $332.00 for GrowCalgary, an urban farm that grows produce for our local food banks and other related services organizations.
Here, Maria M. is presenting the cheque to Paul Hughes (far right), the founder of GrowCalgary. This took place in the "Earthship", a special experimental greenhouse to allow for a 365 day grow period.
GrowCalgary was very appreciative of our donation. Yet another beneficiary of our "partying with a purpose!"
---
Charity Results from 2016 Christmas Fundraiser Party: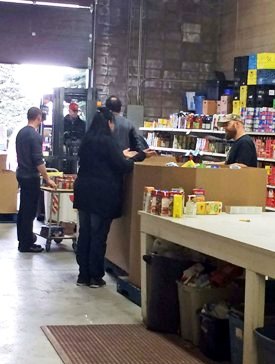 Thank you to everyone who came to our 20th anniversary Christmas Phling event on November 26, 2016, and what a party it was! We managed to collect 4 (oversized) food hampers worth of food and the total amount raised for the Veteran's Food Bank and Wings of Hope was $2,545.00. What a great night and both charities are very appreciative of our efforts. Here are some pictures Dustan took from delivering the food and cash donations in November, as 7 of us spent the day volunteering at the Veteran's Food Bank on behalf of our CPHC.
---
The event successfully raised $3,500.00 for the Calgary Fire Fighter's Burn Treatment Society. The photo for the actual presentation of the cheque to the Burn Treatment Society is shown below.
Thanks to all the Parrot Head members for making this happen -- and a special additional thank you to the volunteers for helping out with the fundraiser!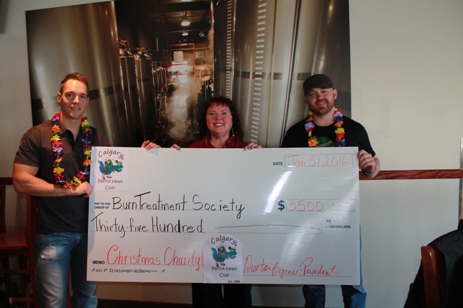 ---
Our Christmas Charity Fundraiser Party 2013 at Donegal Irish Pub was a huge success, with the silent auction, the 50/50 draw and food/drink sales. Substantial funds will thus be given to our charities, Neighborlink and the Veteran's Food Bank. We had a great turnout -- an awesome night with the pH Unbalanced Band!
A huge thank-you to everyone who helped with the setup/arrangements for the Christmas party. Also thank you to those who generously donated items for the silent auction.
---
The Calgary Parrot Head Club has received an appreciative thank-you letter from the Central Oklahoma Parrothead Association's "COPA Cares Fund", thanking us for donating to the relief fund for the victims of the Oklahoma tornados earlier this year... Check it out below. Here's more proof that our fundraising efforts are appreciated!
---
A great big thank you to everyone who came out to help the flood victims in High River on Sunday July 7, 2013. We were able to help clean up four different homes.

Thank you also goes out to Steve and Cathy for organizing the group of 18 volunteers (and also your previous volunteer efforts in High River), and the many donations of sandwiches, water, muffins, and fruit. Thanks to your generosity, we helped to feed and give water to hundreds of hard working people.
---
CalPHC featured in Phlockers Magazine, June 2015 Edition! (Pages 12 & 13)

Check it out:
www.phlockersmagazine.com
---
Unless otherwise noted, most of the articles on this page were adapted from the newsletter, published by Loralyne M., Eva R. and Deanna L.