Saturday, February 24, 2018: 2-5 PM
Saturday, Feb 24, 2018; 2-5pm
Atlantic Trap and Gill
510 Heritage Dr SW
The pub has a separate room for us upstairs that seats about 50.
Designated charity: Pediatric Vision Clinic.
---
March Happy Hour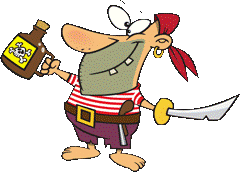 Saturday, March 24, 2018:
3 thru 6 PM
Location: Chestermere: Corner of Chestermere Blvd and East Chestermere Drive (i.e. East shore of lake).
See This Map.
Hosted by Mark 'n' Maria.
Raffle and 50/50 tickets to benefit Potential Place: To help those coping with chronic mental illness to lead productive lives.
The Dockside Bar and Grill will have a "Cheeseburger in Paradise" special for us.
Come on down to the best sailor's hang-out in the Calgary area -- literally on the dockside!!
---
Saturday April 28: 3 pm to 6 pm
Swigs Pub & Grill
11213 30 St SW
Chuck Rose to play some Buffett tunes live for us!
50/50 tickets for charity: Breakfast Club Canada; proceeds to be donated to West Dover Elementary School. Website is www.breakfastclubcanada.org
Also: Food and drink specials
Hosted by Deanna and Randy
---
Sunday May 6, 2018: 10 AM - 2 PM

2018 Annual Calgary Pathway &
River Clean-Up
Our 21st Year of this annual event.
We're back in Inglewood!! Our zone is actually on the east side of the Bow River this time tho'.
Meet at the Hose and Hound Pub (In Inglewood: 1030 9 Ave SE) at 10 AM for coffee and Bailey's.
Shortly afterwards, we'll make our way over to our new assigned section of the river.

Then we'll gather again at the Hose and Hound at 1 PM (give or take) for a post-cleanup Happy Hour. Including 50/50 tickets and Raffle (Beneficiary: Potential Place Society)
The river clean-up will likely go, rain and shine.
Remember dress appropriately for the weather:
Long pants (for if we need to go thru the bushes)
Sturdy shoes or boots (not flip-flops!)
Work gloves
Cell phone (if you have one)
Suggested (but not mandatory) extra items: Bottled water, bug spray, sun screen, snacks, a hat, and camera.
More guidelines are available by clicking here.
Contact Mark Piché ( ) if you're interested, as we'll need to plan according to the number of volunteers.
---
"Livin' It Up"
Saturday, May 26, 2018:
Doors open at 7 PM
Original Joe's - Avenida
12100 Macleod Tr SE
(See map).
All proceeds go to :
STARS Air Ambulance! - More Info
Watch out for interesting stuff and photo-ops that STARS will bring to the event.
Silent Auction
Door Prizes
50/50 Draw
Live music by the pH Unbalanced Band
Tickets $10 for members, $15 for non-members.
For tickets and information: E-mail:
Tickets will also be available at the April Happy Hour and also after the Pathway and River Cleanup.
---
Saturday November 10, 2018
(Location TBA)
---
Saturday December 8, 2018
Kilkenny's Irish Pub-Brentwood.
More info made availble as we move closer to the date.