Saturday October 21, 2017
3 - 6 PM

Phunny Hat Contest
at the October Happy Hour


Hat Contest! Put your thinking caps on -- literally!

3 thru 6 PM
Station Pub in Riverbend
40 Riverglen Dr SE.
See map.



Hosted by Maria 'n Mark.

Also:A raffle and 50/50 Tickets.
Proceeds go to the Alberta Children's Hospital



Get a "base" hat, e.g. Pirate hat, sombrero, cowboy hat, beach hat, etc.
Put several decorations on it, based on the list below. You don't have to include everything here of course, but the more you have from the list, the more "points" you get!
There'll be voting for 1st, 2nd, 3rd place.
Tip: Make it strong and permanent, to wear at other large Parrot-Head gatherings, here and abroad.
View an example here from the Buffett Info website, and here's another example from Pinterest. (Remember though, you've got to make your own, not buy a pre-decorated hat!)
The List: Note: Mostly miniatures, except where occasion where item needs to be larger!
Extra bonus: Make a lei with Halloween candy!
Recommended stores: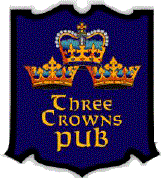 Saturday
November 18, 2017
November Happy Hour
(start time TBA)
Three Crowns Pub
Woodlands Location
523 Woodpark Blvd SW
Charity: Veteran's Food Bank


Saturday
December 9, 2017

7 PM Onward

Kilkenny Irish Pub

Christmas Charity Fundraiser Party

Dec. 9, 2017
Kilkenny Irish Pub

#500,
3630 Brentwood Rd NW
(Brentwood Village S.C.)
See map.
Charitable proceeds go to Inn From the Cold.
Silent Auction
50/50 Tickets
Baloon raffle for large prize
Live music by the pH Unbalanced Band
More details to come
---
See Events Page for more future events.