20th Annual

Christmas Charity Party
"Christmas in the Caribbean"
Saturday November 26, 2016:
7 PM onwards
Kilkenny Irish Pub (Brentwood)

#500, 3630 Brentwood Rd NW
(Brentwood Village S.C.)
See map. Location easy to get to (right along the C-Train line).
Dancing
Silent Auction
50/50 Draws
Food Specials
Drink Specials
Partying
More partying
Even more partying
Be sure to dress up as your favorite Jimmy character and/or put on your loudest tropical outfits!
The doors will open at 7:00pm and tickets will cost $10 for members and $15 for non-members, which can be obtained in advance through emailing , or at the door. (E-Transfers accepted at the aforementioned Email address).
We will be supporting the Veteran's Food Bank once again this year, and we ask that you also bring non-perishable food items and/or cash donations which can be dropped off at the door on entering.
All proceeds from the remainder of the evening will be going to the charity "Wings of Hope Foundation": www.wings-of-hope.com .
If you would like to volunteer at the event, please email to find out what jobs we need filled and we appreciate the help in advance.
---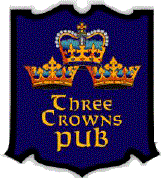 December Happy Hour
Saturday, December 10, 2016
3 PM Onwards
Three Crowns Pub
Woodbine Location
523 Woodpark Blvd SW

Please bring food donations for the Veteran's Food Bank.
Thanks to Vida for organizing this event.
---